Finding the best water filters for camping is not as easy as it seems. There are a lot of things you need to consider, including the number of people, the quality of the water, and preference. For example, chemical purifications are practical for large groups, while filter bottles are ideal for solo campers.
In this post, we will take an in-depth look at the 10 best water filters for camping, hiking, and backpacking. We understand that camping water filtration is an essential factor when planning any camping trip.
The Sawyer Squeeze Filter System includes a cleaning coupling, two 32 fl.oz. Pouches, sawyer squeeze filter, and additional inline and gravity accessories. You get to either filter water to a clean container or drink directly from the squeeze bottle.
Due to the integrated hollow fiber membrane, you get 99.9999% of all bacteria and protozoa removed. These include salmonella, E.coli, cholera, cryptosporidium, and giardia. The Sawyer Squeeze water filter is easy to use and carry around since it weighs just 3 ounces.
With the HydroBlu Versa Flow Water Filter, you get an all in one gravity, inline, straw, and squeeze filter. It features a compatible design that can be used with standard reservoirs and soda bottles. The included transparent inspection window makes it easy to determine when you need to conduct the cleaning.
You get 99.9% filtration of protozoa such as Cryptosporidium and Giardia eliminated, and 99.9999% filtration of bacteria such as cholera, salmonella, and E.coli. Your intake and output spouts are kept clean due to the color-coded end caps.
The 3L Katadyn BeFree Water Filter is a versatile tool that can be used as a gravity filter for groups or squeeze filter for individuals. The 0,1-micron filter effectively removes 99.9999% of bacteria and 99.99% of protozoa.
With this water filter, you get the capability of filtering about 2 liters per minute. It is a long-lasting water filter that has a 1000 liters' life expectancy. You get reliable services for both group and individual camping needs.
These camping water filtration drops uses chlorine dioxide to kill 99.9% of cysts, viruses, and bacteria. It features two bottles, indicated as Part A and Part B. you have to mix these two bottles when using the Aquamira Water Purification Drops.
The drops are ideal for cold, warm, muddy, and clear water with a shelf life of five years. These drops are, therefore, an excellent solution for emergency preparedness, camping, hiking, and international travel.
The Platypus Gravity Works is an excellent design water treatment system that includes a water filter, two 4-liter water reservoirs, and connecting hoses. You get to filter large amounts quickly, making it ideal for families or couples.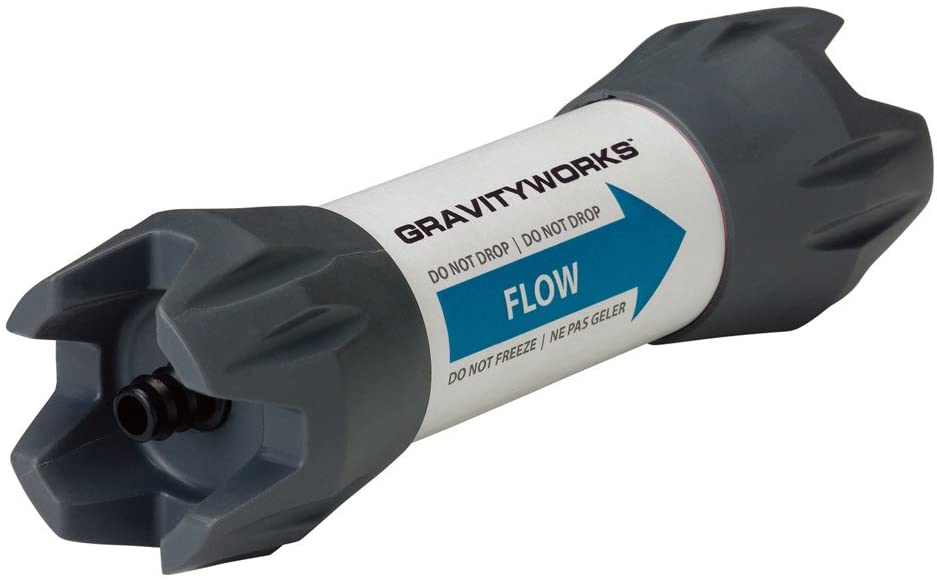 The 0.2-micron filter physically removes all bacteria, particles, and protozoa, including salmonella, giardia, and cryptosporidium. Cleaning is relatively simple due to the included hose clamp and quick disconnect valves.
One of the top pump-based water filter systems in the market is the Katadyn Hiker water filter. It can remove bacteria, protozoa, and particles down to 0.2 microns in size. It is an ideal buy when you go for camping in areas with sediment-filled water.
It weighs 11 ounces making it easy to transport from one location to the next. You get prolonged use since it has a filter life expectancy of 1150 liters before any replacements are required.
This water filtration system uses ultraviolet light to neutralize viruses, protozoa, and bacteria. Apart from fitting in wide and narrow-necked bottles, it is USB rechargeable making it quite versatile. It is an ideal choice when you need to filter cold water that usually creates tiny holes in many filters.
All you need to do with this filtration device is dip it in water and stir. The indicator lamp will signal you when the water is purified. This process usually takes about 90 seconds.
This is a bottle based water filtration device that removes bacteria, viruses, and protozoa from water sources. The Grayl GeoPress Water Purifier Bottle features an outer and inner bottle with a drinking spout on one end and a filter on the other end.
Once you are done filtering water, then you get to drink water directly from the bottle. It is an ideal solution for personal camping trips.
This is a pump style water filtration device that is screwed on soft canteens and Nalgene bottles. Although the MSR Miniworks EX Water Filter is heavy when compared to other filters, it is an excellent solution for tannic and cloudy water sources.
It has an output capability of 1 liter per minute, making it ideal for large group camping trips. With an expected filter lifetime of 2000 gallons, you get a long-lasting filtration system for your camping trips.
One of the most effective and sophisticated water purifiers in the market today is the MSR Guardian Purifier. It is a self-cleaning water filter with a high flow rate making it an ideal solution for large groups. Most people have it in their homes as an emergency preparedness measure.
In Conclusion
You need to ensure that you get a water filtration system that suits your camping needs. It's a good idea to have a backup, or one for portable use and hiking like one of the lightweight straws, while keeping a different one at the camp site. One of the surest ways to be prepared is have redundancies in place.