When planning an outdoor camping trip, one of the most important factors to consider is the menu for the evening. Trust me, I've been on trips where the food made everyone actually sick (undercooked pork is the worst, would not recommend…) so this is definitely something you want to get a handle on. Plus it'll just be a more enjoyable experience for everyone and make them want to keep returning to go on trips. Great food brings people closer together.
This can include everything from appetizers and beverages to a full-blown meal and snacks. Here are some simple, yet delicious, ideas on how to create some meals suitable for any outdoor camping adventure.
As most outdoor campers will tell you, the best part about camping is eating out in the wilderness with good company and enjoying nature together.
Whether this means dining outdoors at a camping table in your yard, or a smoldering campfire in the woods, then your menu for the evening should reflect this. From sandwiches to steaks, tinfoil meals and dutch ovens, there are endless options.
In addition to the those options, camp cooking can also include barbeque. If you plan to have your party at a campfire, then a barbecue menu is pretty much a necessity.
It should include premium cuts of beef, chicken, and pork. You don't want to serve up grizzle to people already roughen it, though some might prefer that on solo adventures.
It should be easy to prepare and include different side items for different types of parties.
Cooking with gas is also an option for many camping parties. For example, a quick, easy meal would be using propane. ("Have ya heard about propane?") If you're using charcoal or other firewood, you can add your favorite marinade to help make the food sizzling hot, if you like spicy food like I do.
Camping is great for it. Though, remember that not everyone will appreciate cajun or chorizo seasoning on a camping trip! Try to be accomodating to your friends' & family's palettes.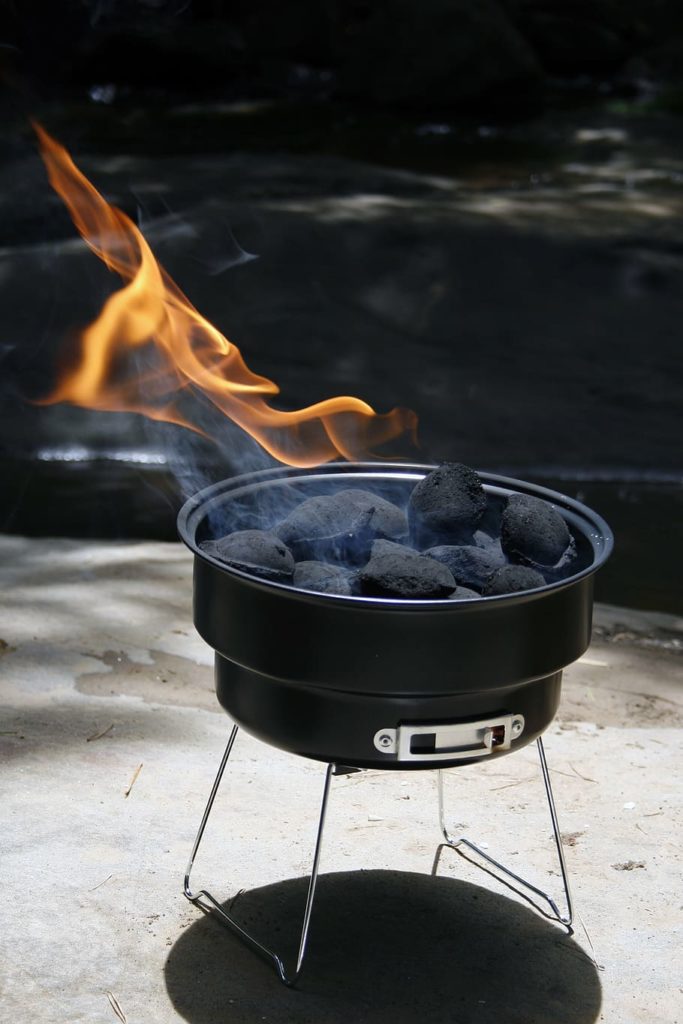 Fruit and vegetables are always a healthy option as well. You can serve them in salads, along with your favorite barbecue sauce. If you have a nice selection of fresh fruit and vegetables, they'll be even tastier.
For a quick snack, you should try the fresh fruit and vegetable bars. They're easy to prepare and very filling. You can also make them with ice cream toppings if you're looking for something different. Serve up two or three to eat on your picnic, and you'll easily have more for later that night.
There are also different snacks you can serve during the day that are healthy and easy to prepare. These include nuts, granola bars, and oatmeal bars. If you need to pack extra snacks, then don't worry, you can have them with your party guests.
By planning your menu before you go to your camping area, you'll find that it's easier to prepare all of the foods you'll need for your outdoor cooking adventures. Whether you choose to cook on a grill, or on a picnic table, or at a campfire, you'll have a wide array of options to create a unique and enjoyable menu for the evening.
If you're planning a family camping trip, then there's no reason not to have fun in the great outdoors. You can cook all of the foods you enjoy on your kitchen table at home. You'll find a wide variety of foods and dishes that you love, and you'll be able to eat what you love without feeling guilty.
A great way to get started is by cooking a simple pot of soup or stew. This is a wonderful way to start out on the adventure of cooking with a variety of different ingredients. and a little bit of inspiration.
Another great way to get cooking is by taking a class. If you've never tried cooking on a campfire, or haven't had any cooking experience at all, this is a great way to learn. This will provide you with an opportunity to learn about the different cooking methods and techniques and learn how to bring all of your foods to the party.
If you're looking for some really exciting camping recipes, check out the food preparation tips from experts. There's nothing quite like seeing the different ways in which you can prepare food. from scratch.
There are also plenty of new recipe ideas available online to give you lots of new recipe ideas. If you take the time to do some research and read the cooking magazines, you can be on your way to finding the best meals and appetizers to enjoy the party. while camping.
And, when you're done cooking, you can sit back and relax in your tent and enjoy a relaxing meal in the shade.
Dutch Ovens – The Best Way to Cook Meals
Camping with your family and friends requires some cooking ideas, but you need to know how to make one of those Dutch oven recipes for camping. The campfire has become the most popular way to enjoy your family and friends in the summer months. It offers a chance for people to get together in the outdoors and create some of the best memories of your life.
You can enjoy cooking food outdoors, but you also need to be able to cook something that can last for days. In this article, I'm going to give you a few of my top tips on cooking in your Dutch oven so you can make your camping experience better than it has ever been.
When you're out camping, one of the most popular ways to cook is with a Dutch oven. The problem is, many people buy a camp stove and never take the time to cook with one of these items. They do not realize how easy the campfire makes cooking food outdoors. If you want to make the most of your camping trip, you need to learn how to make the best Dutch oven recipes for camping.
We Recommend:
The first thing you need to do when you are camping is figure out which stove will work best for your needs. You need to know if you want a small stove to take along on your trip or if you want a larger stove for your entire family. You can even find portable models of these stoves that are perfect for campfires.
If you don't mind buying several of them, then this can be the perfect way to cook all of the foods you want to on the camping trip.
The next thing you need to know when you're planning your camping trip is that campfires are very dangerous. You need to make sure that you purchase a campfire grill that will keep you safe. Most grills today come with multiple controls, which means you can turn the heat up or down at any time to keep the flames small and under control. There are also models that have an emergency feature that allows you to quickly shut the flame down if you feel the flame is getting too large.
Another important item to have on your camping trip is a good campfire grill rack. This can allow you to keep multiple smaller grills close together for easier cleaning. As a rule of thumb, you need at least one rack for cooking the meat that you'll be using while camping. Then, there are also racks that can store a number of different kinds of food like hot dogs and other foods.
Once you have your grill set up, it's time to start preparing some of the meals that you will be eating on the camping trip. The best way to make this easier is by using your Dutch oven. When you use your Dutch oven, you can prepare almost any dish that you would cook outside on your stove, in your oven, or in your kitchen.
By learning a few Dutch oven recipes for camping, you will soon have a great camping experience on your hands. If you've never made a camping meal before, then I recommend you check out the information I gave you in the second paragraph of this article to make your camping trips even better than they were the first time.
There are many recipes that you can use to prepare meals in your Dutch oven, which means you won't have to worry about eating the same old boring meals that you've been eating at home for the past few years. With a Dutch oven, you can even prepare many kinds of meals without the traditional tableware. That's right, there are some models that are so portable you can take them with you on your next camping trip to ensure that you're ready to cook every meal on your camping trip.
Another great thing about using a Dutch oven for your camping trips is that you can cook your meals quickly. You don't have to spend hours in the kitchen trying to make things taste good, just to make a quick pot of stew or pot roast. All you have to do is put the ingredients into your Dutch oven and off you go!
So, the next time that you go camping, don't forget to pack a few of your camping stoves and some Dutch ovens with you. You'll be glad you did.